---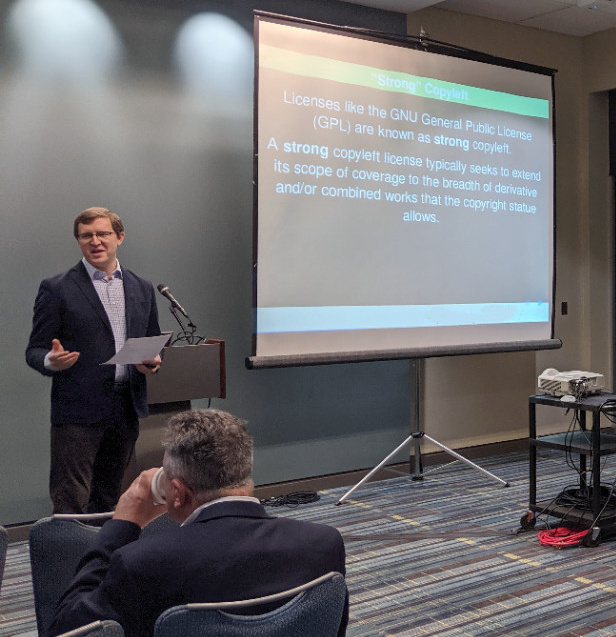 John Sullivan, Executive Director of the FSF, does a presentation at the FSF Continuing Legal Education Seminar in Raleigh, North Carolina, in October 2019.
Trial by proprietary software
By John Sullivan, Executive Director
There has been so much to worry about during the COVID-19 pandemic, even just within the category of technology policy. At the FSF, our role is to worry specifically about the impact of software on human freedom. Software can be a tremendous tool for solving social and scientific problems, but only when the terms of its distribution and use allow everyone to inspect how it works, share copies of it, modify it for their own purposes, and share those improvements or tweaks with others.
In this article, I will primarily address the new ubiquity of Zoom and similarly pernicious proprietary software for videoconferencing, and especially the use of Zoom by government institutions, particularly courts of law.
Read More
-
Index
---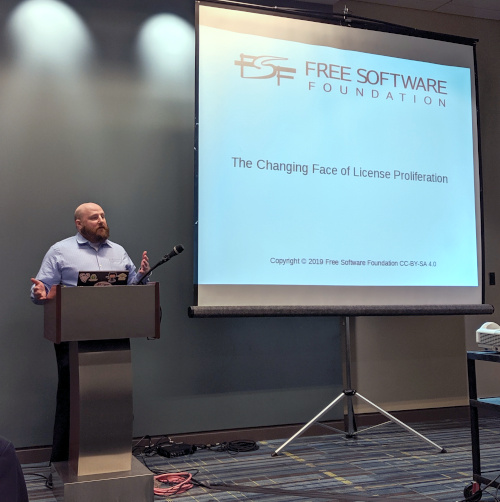 Donald Robertson speaks at the FSF Continuing Legal Education seminar in Raleigh, North Carolina, in October 2019.
Copyleft at thirty-five
By Donald Robertson, III, Licensing and Compliance Manager
Thirty-five years ago, the Emacs General Public License brought about the age of copyleft. It was a revolutionary concept, for the first time ensuring that once software was released freely, it would always remain free. Copyleft licenses achieve this by turning copyright law on its head, requiring that distributions of the software, or modified versions of it, be released under the same terms. These terms guarantee that everyone is free to run, study, modify, and share the work or their own modifications to it.
So what does copyleft look like today, over three decades after its creation? And what does the future hold for it?
Read More
-
Index
---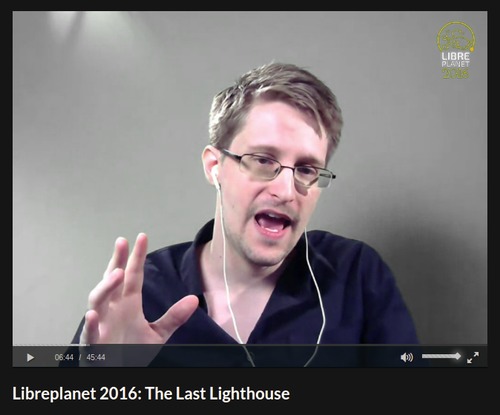 Famed whistleblower Edward Snowden delivers his talk "The Last Lighthouse" remotely for the LibrePlanet 2016 conference.
True privacy and security depend on free software
By Greg Farough, Campaigns Manager
Among technical users, it's common knowledge that privacy is dependent on strong encryption. However, the complex connection between software freedom, encryption, and privacy can be a little difficult to explain in the course of our individual activism, and is due for a more in-depth explanation.
Encryption is about keeping secrets secret, whether that means messages between you and a loved one, sensitive documents, or an entire hard drive. It also isn't only for those with something to hide: making strong encryption part of standard practice increases the safety of all those who really do need it by making it a normal thing to do. When your personal information is at stake, it's all the more important that encryption technology be based on free software. Even the most "benign" proprietary programs have a long history of mistreating their users, and a single "snitch" or backdoor in a proprietary encryption program in some cases could cost lives.
Read More
-
Index
---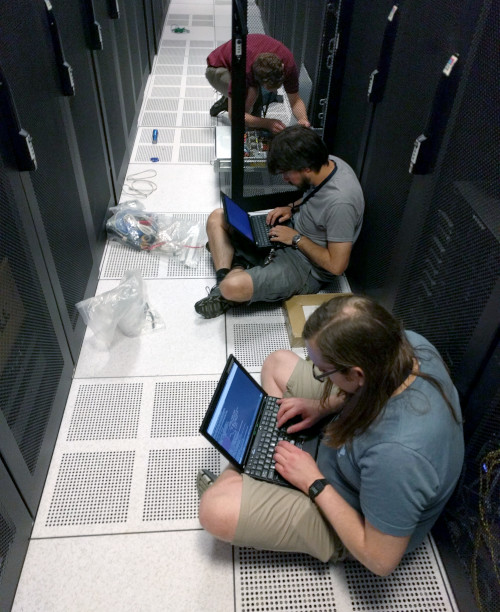 The FSF tech team helps brings server hardware to life as part of the migration to a new colocation facility, June 2019.
Updates from the FSF tech team
By Andrew Engelbrecht, Senior Systems Administrator
The FSF tech team is always at the free software community's service, even when we're working mostly from home due to COVID-19. We're constantly maintaining and improving the infrastructure that you depend on, while simultaneously launching and supporting new FSF projects. We're a small team in a small organization, but we like to think that together, we pack a powerful punch. This update is our opportunity to share some of the work we've done for the FSF and the broader free software community so far this year.
Read More
-
Index
---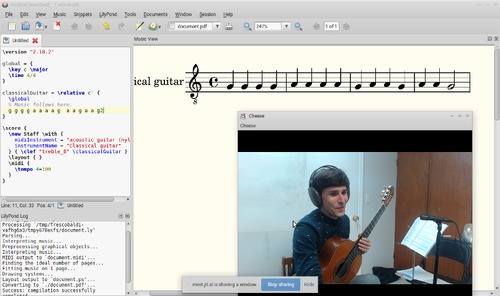 A screenshot from Devin's teaching session using Jitsi Meet for his student's guitar lesson.
Building a framework for a free online classroom
By Devin Ulibarri, Free Software Activist & Sugar Labs Oversight Board Member
The world has changed drastically in the past few months due to the ongoing crisis of the novel coronavirus. As a musician, educator, and a free software advocate, I was very worried because education, in particular, has been impacted: college students have been sent home, day cares have been closed (leaving parents to juggle their work responsibilities with childcare), and public schools have closed their campuses and continued their educational services online.
Read More
-
Index
---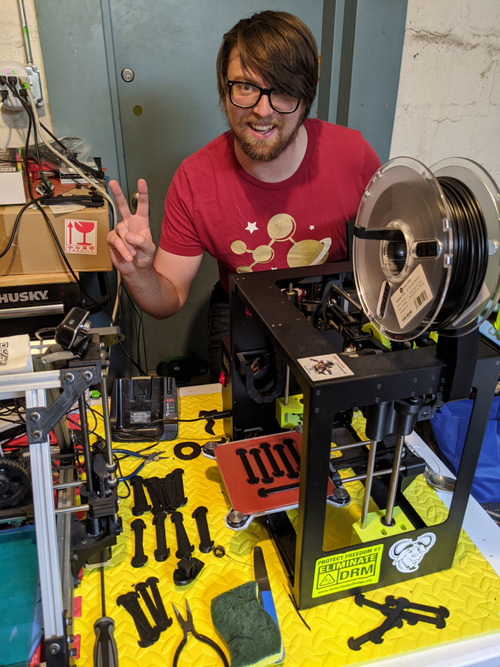 FSF Web Developer Michael McMahon poses with the 3D printers in his garage that are being used to manufacture protective gear and medical supplies in the HACKERS and HOSPITALS initiative.
HACKERS and HOSPITALS: Bringing the free software community together to fight COVID-19
By Michael McMahon, Web Developer
Free software has a unique role to play in fighting the pandemic: unethical restrictions on medical equipment have long prevented medical staff from controlling their software and hardware, and from duplicating parts. So I started a project to consolidate information and discover how the community could best help to battle the pandemic using free software and free culture designs for 3D printers, 3D scanners, laser cutters, sewing machines, etc. I thought up a catchy name, and HACKERS and HOSPITALS (HaH) was born!
Read More
-
Index
---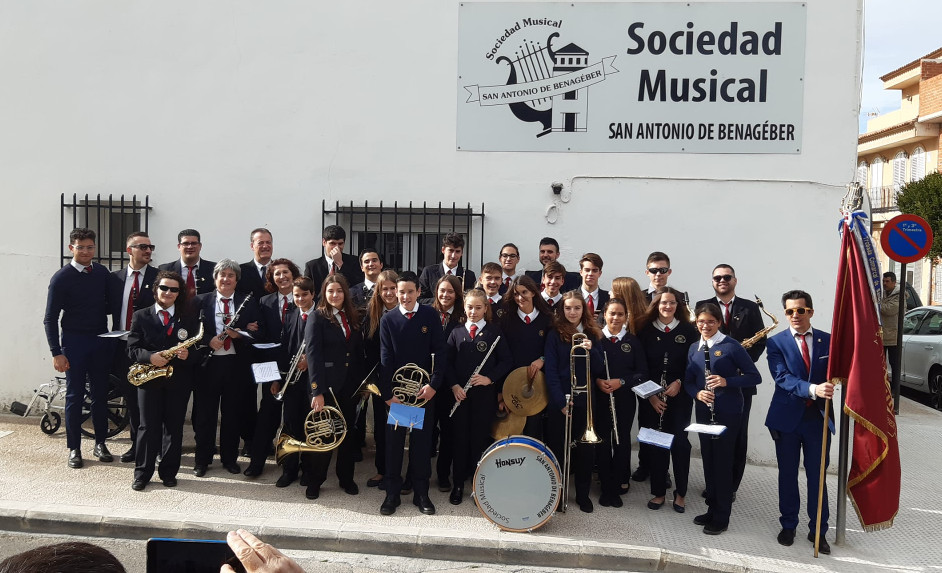 Students and teachers of the Sociedad Musical de San Antonio de Benagéber, a music school in Spain, pose with their instruments and flags.
Freeing videoconferencing, one village at a time: A story from Spain
By Javier Sepulveda, Owner and Proprietor, Valenciatech
San Antonio de Benagéber, just outside of Valencia, Spain, has a bit over 8,000 residents, and thanks to Javier Sepulveda, a system administrator and local free software activist, hundreds of families in the area are now using the free software videoconferencing program Jitsi Meet to educate their children. His story is only one of many inspiring examples from the COVID-19 era, in which activists have used the rise in use of remote communication software as an opportunity to teach, but it's a great example of a single activist making a big difference. It's also an excellent reminder of how the free software movement can use privacy violations as a lever and an entry point to educate the people around us. After all, free software doesn't guarantee privacy, but nonfree software guarantees NO privacy at all.
Read More
-
Index
---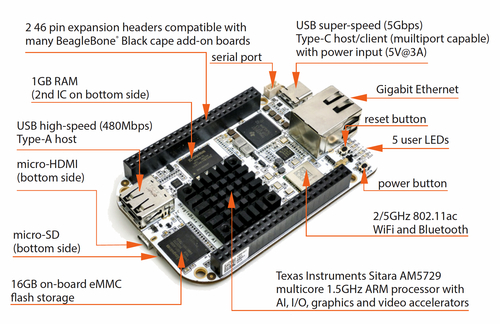 A diagram of the PrivacySafe Health Edition device.
An introduction to GNU Health Embedded
By Sean O'Brien, Founder of Yale Privacy Lab and PrivacySafe
The COVID-19 pandemic has demonstrated the vital importance of public health, scarring the globe with a dreadful impact on humanity. This harm is rooted in our technological landscape, as societies are not only injured by inequity in their healthcare systems, but also inequity and injustice built into the hardware and software they rely upon. Free software has a central role to play in the public health arena, a fact embodied by GNU Health and its deployments around the world. GNU Health Embedded, as I'll explain in greater detail below, is an initiative that extends the benefits of GNU Health by making it even more portable and simple to use, by applying it to small single-board computers.
Read More
-
Index
---